Blog | 8 min read
Top 10 economic development stories of 2021
January 11, 2022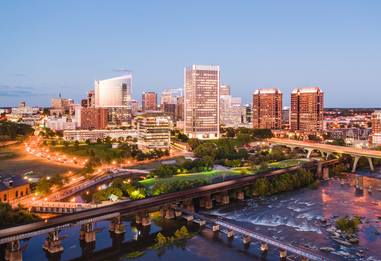 While navigating the pandemic throughout the past year, companies continued to choose Greater Richmond. Several companies announced multi-million-dollar investments and created thousands of jobs for residents. Here are our top 10 economic development stories of 2021:
#1: CoStar to open new $460 million corporate campus, adding 2,000 jobs
CoStar's latest local expansion will feature a new Center of Excellence that will focus on research and development in data analytics, software development and machine learning. In addition to adding 2,000 jobs, CoStar will increase its footprint in downtown Richmond by 750,000 square feet of new office space between two new facilities, a 26-story LEED-certified office building and one five-story multipurpose building. Once complete, CoStar will occupy about one million square feet of office space in downtown Richmond and employ roughly 3,000 workers. Nearly 1,200 of these new jobs will be tech related.
CoStar is a perfect example of companies adopting the Hub & Spoke model, establishing divisional headquarters to cut costs and increase flexibility for both employees and employers. Since locating its research headquarters in Greater Richmond in 2016, CoStar's several investments have fully prepared it to operate a successful Hub & Spoke model.
"Richmond is a growing community with access to a deep pool of diverse, highly-skilled workers, a vibrant culture of innovation and a wonderful quality of life for our existing and future employees. The strong partnerships we have established with the Commonwealth of Virginia, the City of Richmond, and institutions of higher education such as Virginia Commonwealth University, will be critical for our continued growth. Virginia, Richmond, and Costar Group all have bright futures ahead, and we are excited to grow together," said Andy Florance, Founder and Chief Executive Officer of CoStar Group.
#2: Amazon will add 1,000+ jobs with new robotics fulfillment center
Amazon's state-of-the-art multi-story robotics fulfillment center will span 2.6 million square feet and will feature innovative robotics technology. Anticipated to launch later this year, Amazon's new Henrico facility will be the first of its kind in Central Virginia.
"Amazon has been proud to call Virginia home since 2006. Collectively it takes a strong workforce and local support network to serve our customers across the Commonwealth and the region. The launch of this state-of-the-art fulfillment center in Central Virginia will create more than 1,000 jobs with industry-leading pay and benefits starting on the first day of employment. I'm excited to see Virginians continue to excel at Amazon, building better and brighter futures," said Alicia Boler Davis, Amazon's Vice President of Global Customer Fulfillment.
#3: Carvana moves forward with new $25 million reconditioning facility, creating 400 jobs
Carvana, the first to create car vending machines for buying and selling used cars,  will invest $25 million to open a 191,000-square-foot vehicle inspection and reconditioning facility in Chesterfield County. The project will create over 400 jobs for the region.
"Carvana has been growing extremely rapidly over the last several years, and we are working to bring The New Way to Buy a Car® to even more customers all the time. As part of our efforts to scale the business, we're looking forward to working with Chesterfield County to open a vehicle inspection and reconditioning center and becoming a member of the community," said Carvana Vice President of Inventory Strategy Brian Boyd.
#4: Performance Food Group to create 125 jobs for new $80 million sales and distribution center
Fortune 500 food distribution company Performance Food Group will establish a new facility in Hanover County, creating 125 jobs. The company will invest $80.2 million on the 191,000-sqaure-foot facility.
"Since the company's founding in Richmond in 1885, Performance Food Group has called Virginia home. With our new state-of-the-art food distribution facility in Hanover, Performance Food Group reaffirms its commitment to Virginia, our associates and our valued customers. Virginia's talented workforce and business-friendly environment will continue to fuel Performance Food Group's plans for growth," said Performance Food Group Chairman, President and CEO George Holm.
#5: Mondelēz to invest $122.5 million to expand supply chain operations, add 80 jobs
Global snacking leader Mondelēz announces it will invest $122.5 million to boost its supply chain operation in Henrico County over the next three years, creating 80 jobs. The investment will include a 68,000-square-foot expansion of the company's Richmond Biscuit Bakery which will soon feature a high-speed, modern Oreo production line.
"We are excited about these further investments in our U.S. biscuit network and the opportunity to reaffirm and enhance the role of our Richmond manufacturing site, as well as our broader supply chain and business footprint here in Henrico County and in the Commonwealth of Virginia. Our Richmond Biscuit Bakery has been a proud part of our company's operations for nearly five decades and is geographically well-situated as the hub for our East Coast U.S. biscuit manufacturing. As we focus on leading the future of snacking, our presence in Henrico County continues to play an important part in us creating a best-in-class integrated supply chain which supports our U.S. business both now and for the future," said Troy Ellis, Mondelēz International Senior Vice President of North America Supply Chain.
#6: SimpliSafe announces new $3 million monitoring facility, creating 250 jobs
SimpliSafe, leading producer of self-installed home security systems, plans to invest $3 million to increase its footprint in Greater Richmond. SimpliSafe's new 16,000-square-foot security monitoring center in Henrico County. The new operation will create 250 jobs.
"We recently decided to double down on Virginia and we are opening a home monitoring center," said SimpliSafe CEO Christian Cerda.
#7: Starplast announces new $17.7 million plastics manufacturing facility, creating 300 jobs
Israeli company Starplast announced plans to invest $17.7 million to open a new manufacturing facility in Chesterfield County. At the new facility, Starplast will produce high-performance plastic products including housewares, toys and garden storage and will create 300 new jobs as a result.
"Starplast chose Chesterfield County for its new manufacturing operation because the geographic location is very attractive, especially given its proximity to the East Coast and the Port of Virginia. Additionally, Virginia – and in particular the Richmond area – has a strong workforce with readily-available talent," said Starplast Chief Executive Officer Danny Schwartz.
#8: Matan Companies breaks ground on new 665,000 SF Northlake II industrial development
Matan Companies broke ground on phase I of the five-building Northlake II industrial development. Once complete, the space will cover 655,000 square feet of Class A industrial product in Hanover. The development is set to open later this year.
"Today is an exciting day for us. The Richmond market is strong and a natural fit for our Mid-Atlantic expansion. We hope this is the first of many projects for us in this market," said JP Matan, Director of Leasing at Matan Companies.
According to Gareth Jones, Senior Vice President at JLL who is overseeing the project's leasing and marketing efforts, "… With 32-foot clear ceiling heights, ample loading and parking specifications, as well as superb access to the I-95 corridor, we have already had much interest. This first phase will result in the delivery of three buildings, which total approximately 345,000 square feet."
#9: Virginia ranked CNBC's Top State for Business again
Virginia maintained its front-runner position for a second year in a row as CNBC's Best State for Business. This marks the first time a state has consecutively ranked in the top spot. CNBC's ranking is based on Cost of Doing Business, Infrastructure, Life, Health and Inclusion (formerly Quality of Life), Workforce, Economy, Business Friendliness, Access to Capital, Technology and Innovation, Education and Cost of Living.
"Virginia has captured top honors five times — more than any other state — and is the first state to notch back-to-back wins." – CNBC
#10: Training and content producer Vytal Studios plans 155 jobs while relocating headquarters
Vytal Studios announced plans to invest $6.8 million to relocate its corporate headquarters to the City of Richmond. The technology-based education and training content developer and producer will create 155 new jobs.
"Virginia, specifically Richmond, has everything an emerging creative technology company wants. Access to talent and higher education institutions, a vibrant entrepreneurial culture, local and state governments that get it, and just a super cool vibe that reminds me of Austin 10 years ago. I feel we can be a 'Vytal' member of the community and drive growth that draws the extended reality industry as a whole to a home in Virginia," said Jim Smith, Vytal Studios CEO.
Honorable mentions