Blog | 2 min read
Jobs recovery in Greater Richmond reaches 98 percent
June 24, 2022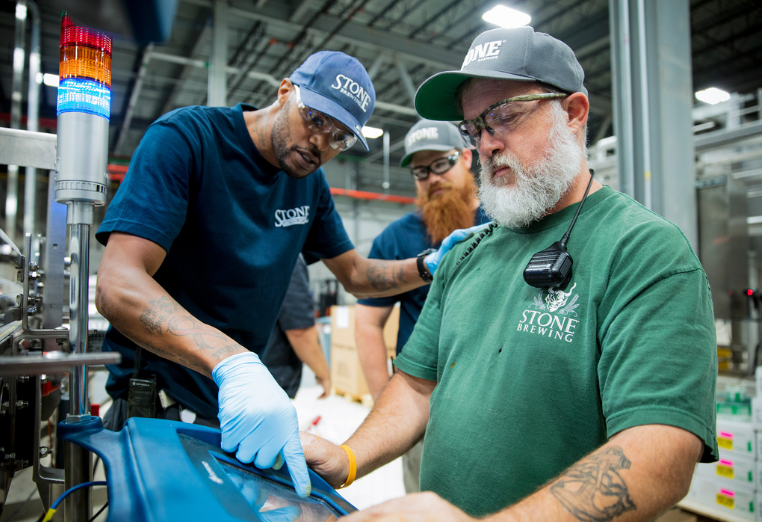 It's hard to imagine that the last month before COVID-19 impacted the nation's employment was more than two years ago in February 2020.
Since then, metro areas around the nation have been working to attract and retain talented employees. Slowly but surely, workforce numbers are stabilizing to pre-COVID levels, and some have even surpassed them. To understand the number of jobs recovered since the beginning of the pandemic, the U.S. Bureau of Labor Statistics compared not-seasonally-adjusted employment data across the nation.
Richmond recovery nears U.S. average
As of April 2022, Greater Richmond's recovery of pandemic-era job losses is lagging slightly behind the national rate of recovery. Richmond's recovery is at 98 percent compared to the nation which has fully recovered. Richmond's largest challenge is the disparity with 113,700 fewer locally employed people in April 2022 than in February 2020.
| | | | | |
| --- | --- | --- | --- | --- |
| | February 2020 Employment | April 2022 Employment | April 2022 Jobs Compared to Feb. 2020 | Percent April 2022 Jobs Compared to Feb. 2020 |
| Richmond, Va. | 686,100 | 672,400 | -13,700 | -2% |
| United States | 150,968,000 | 150,964,000 | -4,000 | 100% |
Source: U.S. Bureau of Labor Statistics. Data is not seasonally adjusted. April 2022 data is preliminary.
Greater Richmond's rate-of-recovery over the past year has been slow: averaging 1,100 net additional jobs per month, meaning full recovery at this rate would take 13 additional months. However, strong economic development demand may shorten that timeframe.
Target industry employment
The data below shows employment changes between April 2022 versus February 2020. Two industries have regained their pre-COVID employment levels: Transportation & Warehousing and Construction. Challenges in the country's supply chain have driven emphasis on this crucial need whereas construction growth is likely attributable to the region's strong housing and industrial building markets.
Industries that are still below their early 2020 employment levels included Education & Health Services, Government, Financial Activities, Information, and Professional & Business Services.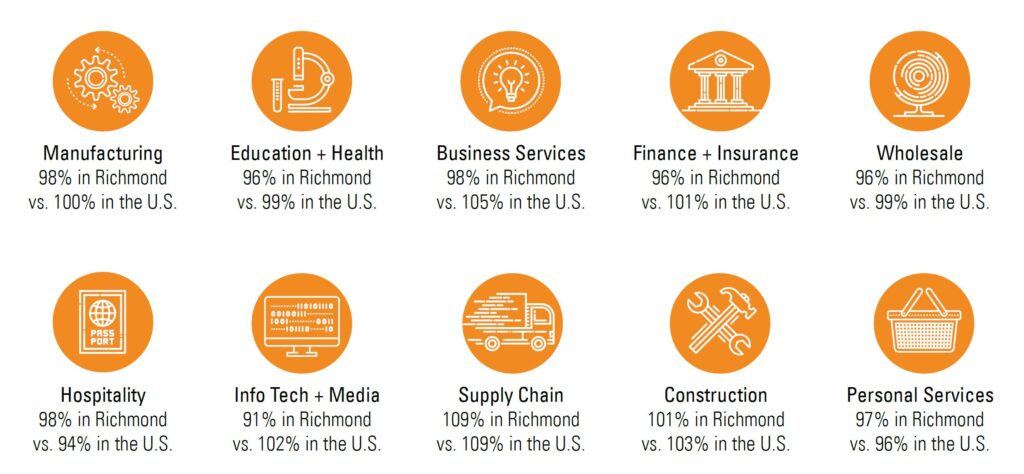 Looking forward
Greater Richmond's workforce is on the rise and will soon reach pre-pandemic levels. Peeking at the Greater Richmond Partnership's project pipeline, it's clear the region is in good standing to help assist job creation in addition to the several projects announced earlier this year. For example, LEGO announced 1,700+ jobs at its new toy manufacturing plant, CoStar announced 2,000 news jobs for its corporate campus and Amazon added 1,000+ jobs for its robotics fulfillment center. That's in addition to Starplast's 300 jobs and Walgreen's 250 jobs.